The increasing share of renewables in the energy mix on national level brings an increasing volatility of energy supply. Therefore, it is imperiously necessary to consider energy flexibility measures alongside the ambitions to increase energy efficiency. These were the drivers, which have recently led to an exchange opportunity between German and Costa Rican energy experts who participated in the conference "Decentralised Energy Supply with Renewable Energies" held at the end of October in San José.
The organisers of the symposium, the Renewables Academy (RENAC) AG Berlin, in collaboration with the German-Costa Rican Chamber of Industry and Commerce Abroad (AHK), have invited 15 speakers to share their expertise and knowledge with an auditorium consisting of approx. 190 representatives of Costa Rican industry, R&D and education.
The main topics of the symposium addressed energy politics, storage and renewable generation technologies, as well as efficiency and flexibility increasing strategies and measures.
Ivan Bogdanov from Fraunhofer IPA and the EEP of the University of Stuttgart lectured on "Energy Efficiency and Flexibility – the Pillars of the German «Energiewende»", bringing an insight into the related R&D activities of both institutes, he represented at the event.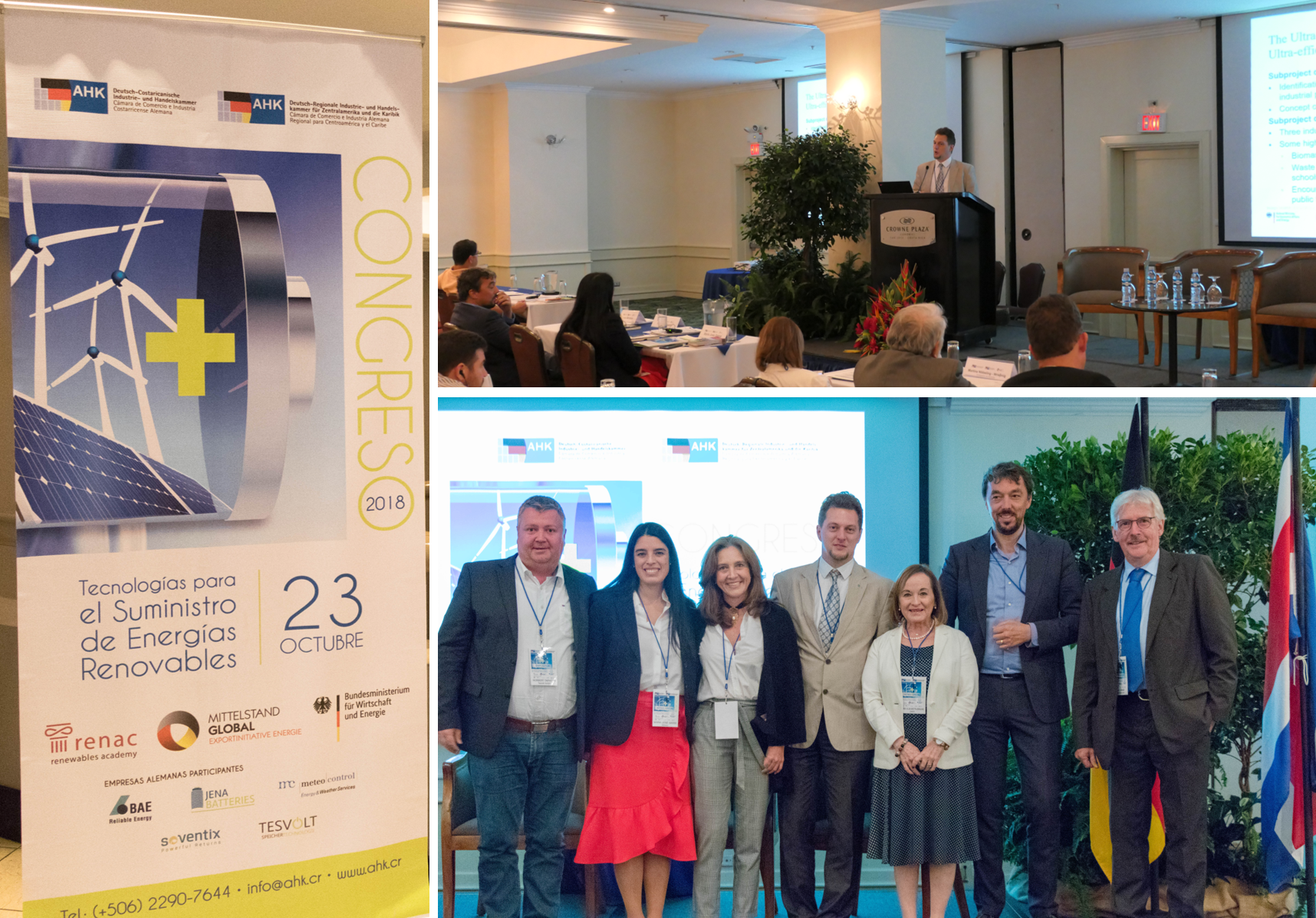 Following the conference, fruitful bilateral discussions on specific possibilities for economic, but also R&D or education related collaborations between the two countries took place. In addition, the days after the symposium, Mr. Bogdanov visited some Costa Rican institutions and companies, having some very good exchanges with their representatives on possible strategic and project-based collaborations, including the Chamber of Industries of Costa Rica and Cinde, the Costa Rican Investment Promotion Agency.
Costa Rica is the home of approx. 5 million people, with a strong advanced manufacturing sector, being number one in production process sophistication in Latin America. Besides the manufacturing of aeronautics & aerospace components, oil & gas equipment parts, electronics and rocket propulsion, Costa Rica also hosts Latin America's Med-Tech Hub, with over 60 leading medical devices companies and counting. Having the best educational system in Latin America, Costa Rica also ranks first, both in quality of scientific research institutions and in innovation in the named region.